---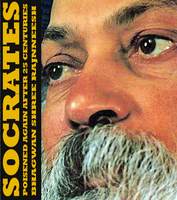 Socrates Poisoned Again After 25 Centuries
Talks in Greece
As the bishop of Crete?s Greek Orthodox Church urges the local citizenry to forcibly drive him out of the villa where he is staying, Osho revives the spirit of Zorba in a series of lively talks to his disciples and to visiting journalists. Eventually Osho, like Socrates, was accused of \"corrupting the youth\". -and his heavy-handed deportation is documented in an eight-page color section at the end of this volume. But in the meantime the \"corruption\" had been recorded in print. A banquet of timely topics, from politics and religion to teenagers and sex, it sparkles like the Mediterranean setting in which it happened.
Reviews
\"Remarkable books\"
Nicholas Mosley, Daily Telegraph, UK
Chapter Titles
Chapter 1: I Belong to the Whole World
Chapter 2: Time Knows Only the Present Tense
Chapter 3: The Well Is Going to the Thirsty
Chapter 4: The Art of Not Planning Life
Chapter 5: Existence Does Not Like Carbon Copies
Chapter 6: If You Can Get it, Get it
Chapter 7: Zorba Is My Past: Buddha Is My Present
Chapter 8: The Center of the Cyclone
Chapter 9: Truth Is a Search, Not a Faith
Chapter 10: Pope the Polack Is the Antichrist
Chapter 11: Utopia Is Just Around the Corner
Chapter 12: You Are Accepted by the Whole Universe
Chapter 13: Growing Your Own Consciousness
Chapter 14: It Is Your Mind Again
Chapter 15: The Logic of the Ostrich
Chapter 16: Only Idiots Are Consistent
Chapter 17: This Too Will Pass
Chapter 18: Logic Is a Prostitute
Chapter 19: Rabbis and Rubbish!
Chapter 20: Health: Overflowing Energy of Life
Chapter 21: The Fear of Tomorrow Destroys Your Today
Chapter 22: The Whole Existence Is with You
Chapter 23: A New World a New Man
Chapter 24: Spirituality Is Not for Sale
Chapter 25: Consciousness Is Contagious
Chapter 26: Sympathy Is a False Coin
Chapter 27: Existence Is Never Wrong
Chapter 28: Peace or Mind
Excerpt from Socrates Poisoned Again After 25 Centuries
Chapter 5
\"Once you drop your conditioning, which I am saying is one of the simplest things in the world, because I have millions of sannyasins around the world who have come from all kinds of traditions?Christianity is two thousand years old, Judaism is four thousand years old, Hinduism is ten thousand years old, Jainism is twelve thousand years old. All these people have come to me and they don?t find any difficulty in dropping it, because it is not their own. It is a burden; you are being crushed under it. You cannot move, you cannot grow, you are chained.
Once you understand that the house you are living in is not a house but a prison, you will jump out from the window, from the door, from anywhere. You will find the way\"