---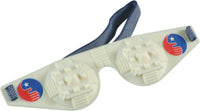 Relax Pyramid belt (for eye-brain stress relaxation) This unique eye-brain relaxing yantra is valuable in deeprelaxation, relieving tension and improving blood circulation. Also useful in meditation and for sound sleep. Must for computer professionals and office people. Relax 9x9 consist one energy belt and a cotton energy collector red-pad.
This tool is must for everyone in the modern age of stress and tension. Due to working on computers, viewing television,travelling at high speeds and more working hours millions of unwanted impulse enter our brain. consciously or unconsciously our brain is irritated, this effects our efficiency and health. This is a unique eye and brain relaxing pyramid yantra valuable for deep relaxation, relieve tension, improve blood circulation in eyes, vision problem such as far sightedness and near sightedness, before and after cataract removal, glaucoma, headache due to strain.
Relax Pyramid belt is good for corporate executives to recharge, power nap, for student - before and after study, sound sleep, people working with computers, after long drives, after being in hot and bright sunlight, after intense detail work, after being in intense artificial light. RELAX PYRAMID (BELT) Para relajación del cerebro y ojos Este yantra único de relajación es muy valioso para estados de relajación profunda, el alivio de la tensión y el mejoramiento de la circulación de la sangre. También es útil para la meditación y para alcanzar un sueño profundo. Esencial para los profesionales de los computadores y gente de oficina. RPB contiene una correa de energía y un colector de energía acolchonado color rojo.