---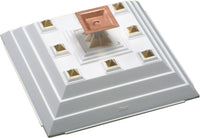 PyraFire Fire Pyramid
Description
Pyra Fire Instrument Re-energise your Space! Pyra Fire contains plate at bottom for earth energy, power of three layers of pyramids, with 8 copper pyramid and one copper chamber. Fire harmonization is fundamental requirement for Pyravastu. It is must for Vastu experts before applying vastu correction method of any house, office or shop. Pyra fire purifies the atmosphere and harmonizes the space. Pyra fire will work as per your program and wish.
Optional: Once the fire is out you can carry the fire pyramid to all the rooms and entrances to create positive energy.
Easy To Use:
Take the base out of the box.
Put the white top on the base hole in the center with cylinder facing up.
Select one of the copper chips from 8 plates provided.
(The purpose of each shape is described below)

Place the camphor tablet and light with matchstick.

Keep your hands around the pyramid as you take in the change in the energy.

Hope for the best positive results.


Performing fire in these shapes can evoke following:
| | |
| --- | --- |
| Square | Success, prosperity, growth, performance and motivation |
| Heart | Marriage, children, spouse and love |
| Semicircle | Well-being, satisfaction, fast results and contentment |
| Triangle | Protection, safe-guard, removes fear and negativity, and longevity |
| Circle | Peace, calmness of mind, comfort, happiness and relaxation |
| Hexagon | Gain of money, income, financial success and fortune |
| Star 8 point | Removes physical, emotional and mental blocks, tensions and increase positivity |
| Octagon | Removes obstacles in relations at family, public, business neutralizes ill effects |
This is a instant Yagna instrument read
Look up the description and benefits in Pyramid Yantra for Vaastu Book on Page 60