---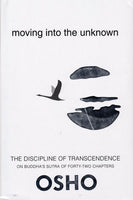 "Ecstasy is such a great 'Aha!' that you are completely dissolved into it. It becomes your very song, your celebration, your dance. Life is a mystery to be lived, not a problem to be solved. Life is a mystery to be lost in, not a problem to be handled."
Osho
In this second volume from The Discipline of Transcendence series, Osho continues to talk on the 42 earliest - surviving Buddhist sutras. By using the word discipline,
Osho carves away the conventional, well understood, meaning of the word, so that the reader is able to move from what he already understands, into territory he may never have explored before.
Osho encourages the use of awareness to reveal the natural discipline that comes from listening to oneself. Simply reading this book will inspire you to new revelations about your own life.