---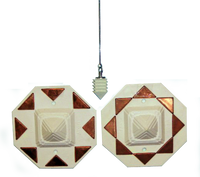 All About Fa-Ma
Description
This comes with Fa Ma pendulum, a Fatron and a Matron. Balance the energy with this kit.
Pyra-pendulum:
This is a completely unique kind of pendulum designed by Prof. Dr. Jiten Bhatt. It has a pendulum integrated with five energy pyramids to help us find the hidden or unseen micro energy disturbances in or out of any premise that we are correcting through PyraVastu. This versatile information finding tool can be used in many sectors of life. Pendulum guides us to many subtle defects, which we might overlook when checking physical defects.
Fatron (Faatron):
A unique tool for success and progress to 'INCREASE ENERGY'. Helps you to get new and creative ideas. Improves activity of all rooms especially in the kitchen, living room and a must near the computer and in the children's room. Ideal for marketing executives to achieve their targets on time.
Matron (Maatron):
Specially designed to 'REDUCE' stress and tension and to give a peaceful and relaxed environment. Ideal for bedrooms, meditation rooms, and pooja-rooms. Reduces the harmful radiations coming from electronic gadgets like television, referigerator, ovens, microwaves, air-conditioners, etc. Can be used near electric meters and junction boards to remove their negative effects.
For more information 
Look up the description and benefits in Pyramid Yantra for Vaastu Book on Page 79