---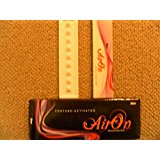 Airon Yantra
Secret Features:
Airon, totally new pyramid power tool
Each particle emitting from incense sticks attracts abundant fortune
Inner desire magnifies in personal space
Description:
Airon, agarbatti stand is a totally new power tool for daily use. Let your inner desire magnify in your personal space. Each vital particle emitting from the incense stick will attract abundance of fortune for you! Perform everyday in morning and start your routine in a dynamic way.