---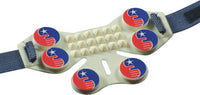 Cervical Belt
Description :
Re-energize your cervical.
Comfortable and easy to wear, with adjust-to-fit velcro closure. Recommended by doctors and Clinicians. Useful in Spondylitis, Cervical, Thyroid and Neck problems. Contains 18-pyramids, 6-magnets, 18-acutips, 6-copper discs.
CERVICAL BELT Revitaliza tu cervical. Cómoda, fácil de usar, ajustable con un cierre de Velcro. Recomendada por doctores y clínicas. Útil en problemas de espondilitis, cervicales, tiroides, garganta y cuello. Contiene 18 pirámides, 6 magnetos, 18 acutips y 6 discos de cobre.